And My Tax
Story
It is that time of the year again and taxes have to be collected from all of the monsters in the dungeon. The King of Monsters has trusted you with this extremely honorable job. Armed with your tax collector weapons (a bunch of dice), you are to collect as much tax you can from as many monsters before, you know, they chase you out of town (or the dungeon). Good luck!

Components
You will need 6 dice (d6, d6, d8, d10, d12, d20) and the deck of "And My Tax" cards (include as many monsters as you'd like).
Setup

Shuffle the Monster cards to create a face down Monster Deck.

Grab 1 of every dice type to roll (d4, d6, d8, d10, d12, d20).

Flip over the top two Monster cards and place them face up next to each other.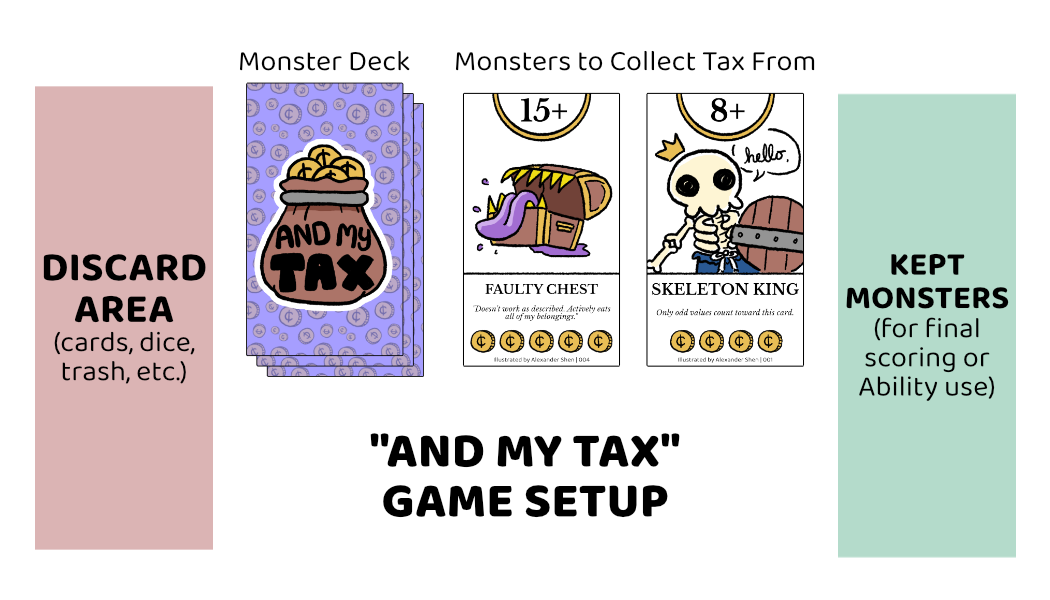 How to Play
Choose a face up Monster to collect tax from.

Roll any available single die you have for that Monster.

Check to see if the value rolled meets the requirements (+ means it must be that value or more, - means it must be that value or less).

If it does not meet the requirements, you may roll more dice against that Monster or you may discard it along with all of the dice just used on this Monster.
If it does meet the requirements, keep that Monster. Discard all of the dice just used on this Monster.

Flip over the next Monster card face up so there are two monsters.



Game End
When you no longer have dice available to roll, ways to regain dice, Monsters in the deck, or simply choose to end the game the game ends. Count up the Coins on all kept Monsters. Aim for the most Coins!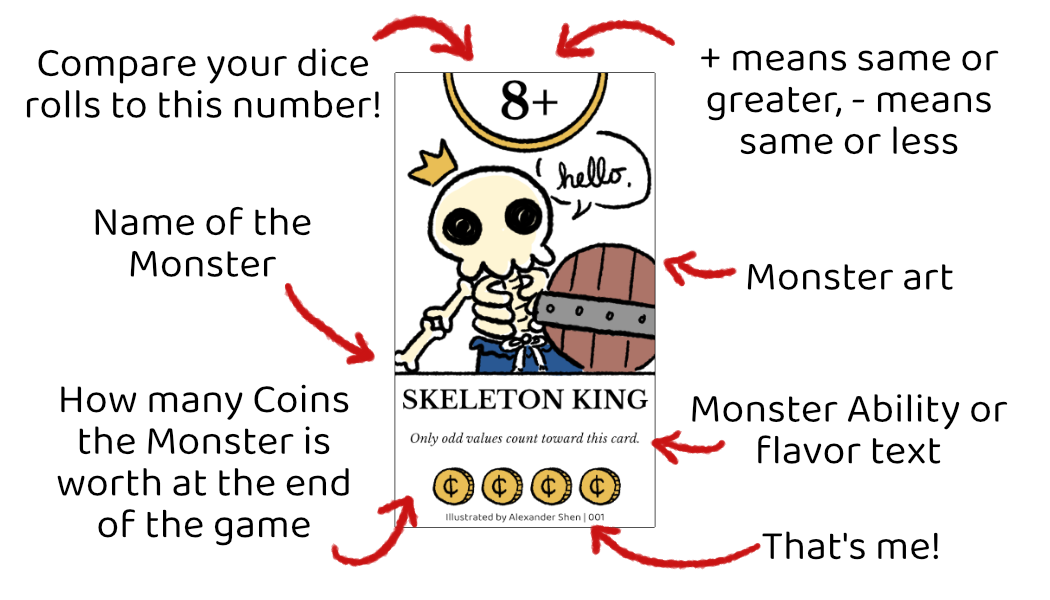 Discard Abilities
Some Monsters have a Discard ability. Discard abilities may be used at any time.
Regaining Dice
You may discard a kept Monster card at any time to regain any 1 discarded (i.e. used) die. That Monster does not count toward your Coins at the end of the game. This is not considered a Discard ability.
Impossible Monsters
Some Monsters and dice rolls result in an impossible to win situation. In those cases, discard that Monster and all of the dice just used on that Monster.
Download
Click download now to get access to the following files:
And My Tax Rules v1.pdf
430 kB
And My Tax - Base Set & Rules.zip
22 MB
Comments
Log in with itch.io to leave a comment.
This is such a delightful concept and a great game! Thank you very much for making it!