Meishi Adventure
Demo kit now available (6 Heroes, 2 Adventure Cards, all the dice)! Base set of cards are coming soon! Follow for updates and when the Base Set releases.
OBJECTIVE
Collect as much treasure as possible over the course of multiple quests with a motley crew of heroes.
GAMEPLAY

The game has you revealing an Adventure Card for which you assign certain Heroes from your crew to attempt to succeed. Maybe you have to steal treasure under a sleeping troll's body. Maybe you have to complete a partially-filled-in Sudoku puzzle. Maybe you just need some milk because you already poured cereal into the bowl. Adventure Cards are completed by rolling both Base and unique Hero dice.
BUSINESS CARDS?

All cards are the size of standard business cards. This allows for economical bulk printing of the templates, but also nice cardstock weight and quality. The cards are then all handwritten and hand assembled. The cards and dice faces will all be available as Print and Play files.
HOW TO PLAY
Commit Heroes to the Adventure.
Roll and resolve Adventure Dice to check for Success.
Repeat until all Heroes are exhausted.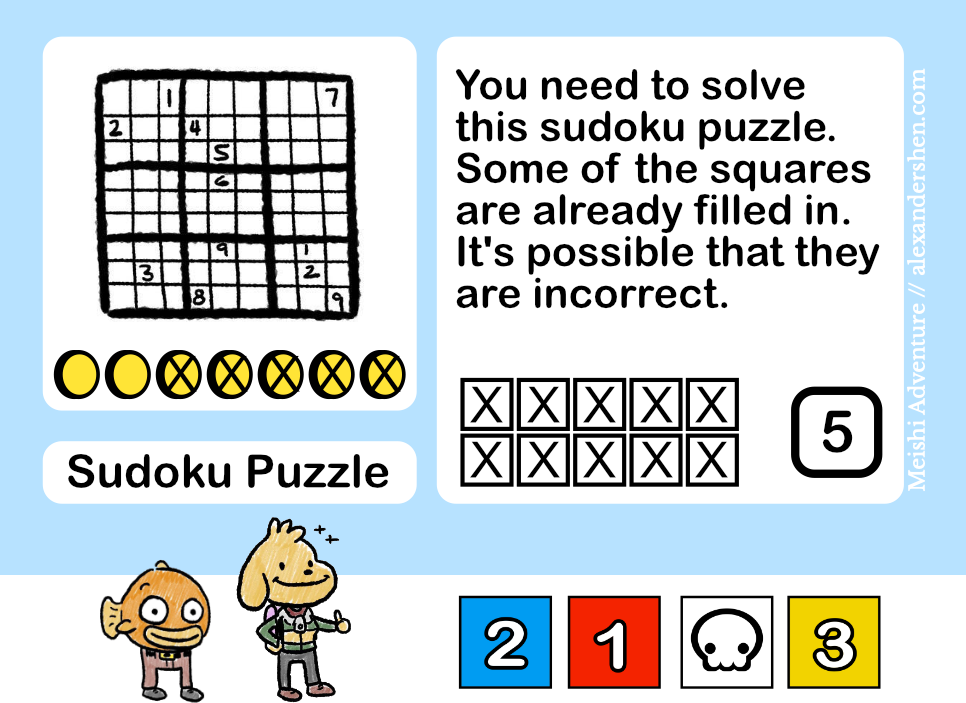 Example: 2 Heroes (Fish in Pants, Sadie Cat) have been committed to this Adventure Card. Their first roll produced a sum of 6. They have met the Success Criteria for the Adventure (summed point value of at least 5).
ROLLING AND RESOLVING ADVENTURE DICE
When all Adventure Dice are collected for committed Heroes, roll all the Adventure Dice at the same time. Check to see if Success is achieved for the Adventure Card.
If Success is met, collect the amount of treasure listed on the Adventure Card and proceed to the next Adventure Card in the stack.
If Success is not met, you may choose to roll any non-skull dice an additional 2 times. If after 2 additional rolls Success is not met, the adventure is failed.
Download
Click download now to get access to the following files:
Meishi Adventure - Base Set (Rules, Dice, Heroes, Adventures) (Zip File)
8 MB
Meishi Adventure Rules v1.pdf
1,009 kB
Meishi Adventure - Base Dice.pdf
100 kB