The Crumbling Dungeon
Demo and Full Version now available! Demo version includes 5 maps. Full version includes 365 maps -- one for every day of the year (+1 in case you're playing during a leap year)!
A dungeon crawling game that puts players in a maze that is literally falling apart. Players are not allowed to turn around, so their adventure through the dungeon must be completed in a single shot. The location of items and encounters are always the same, but the maze is ever changing.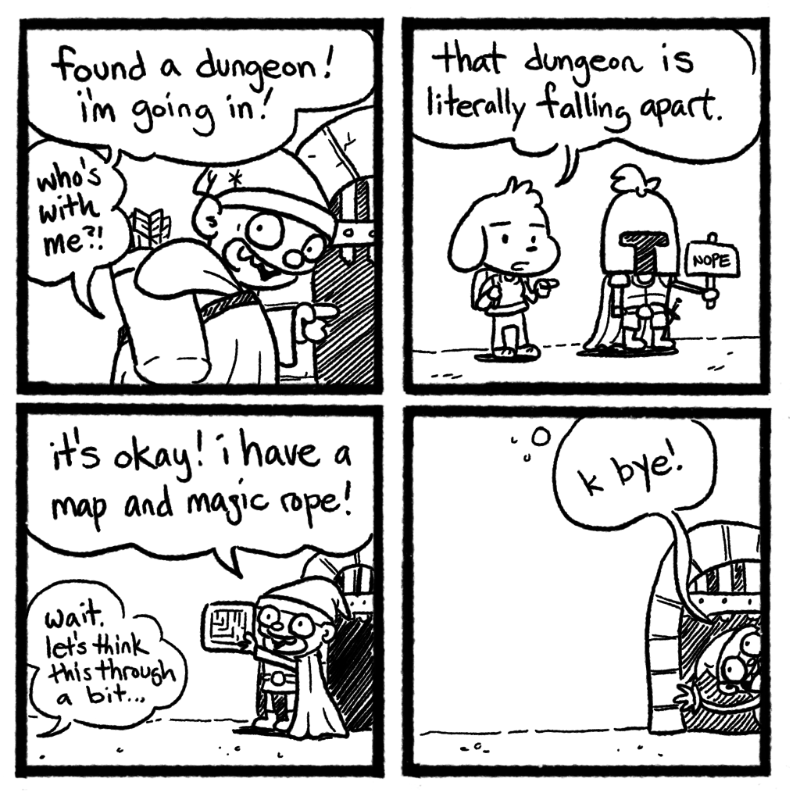 Goal of the Game
Traverse through the Crumbling Dungeon and try to get the highest score possible.
How to Play
Choose any Entrance at a corner in the Crumbling Dungeon to start from.
Traverse through the maze, interacting with anything you encounter.
If you interact with an item (Key, Chest, Gem, Health Potion), cross off the corresponding spot on your sheet as you have obtained that item.
If you interact with a Monster, resolve combat (see: Combat).
Remember: You are not allowed to turn around in the Crumbling Dungeon. It's a single straight shot though. The floor is literally crumbling beneath your feet as you make your way through.
Repeat until the game ends. Good luck!
Purchase
In order to download this game you must purchase it at or above the minimum price of $5 USD. You will get access to the following files:
The Crumbling Dungeon - 365 - Full Version.pdf
266 MB
Download demo
Comments
Log in with itch.io to leave a comment.
That's a great idea! Already in process actually trying to figure out logistics. For you would you rather it be coil bound or perfect bound (i.e. regular book)?
Also I loved Tiny Paper Dungeons. That whole Paper Apps thing was awesome. The d6 for movement felt a little weird to me, but I totally understand the reason for it.
Either would be fine with me, i have the Tiny paper Apps coil bound, but also have sudokus bound like books (I regard those all as paper apps/games and im in love with the paper games in booklets ideas, they make for quick fun grabs). I was actually starting to consider printing the 365 days per 1/4th of an A4, cut and perforate it myself, and coil it myself. To be honest I liked the crumbling maze dungeon better than the KS dungeon haha.
You could perhaps even make a combined book with Crumbling Dungeon, Magic Mine Cart, and maybe also the Circuit Squares; Maybe you could generate the last one with other mathematical permutations like subtracting, multiplication and dividing. For the classrooms!
(I checked out a bunch of your table tops, will do some digital drawing for pimping up the pokemon dice somewhere this week)