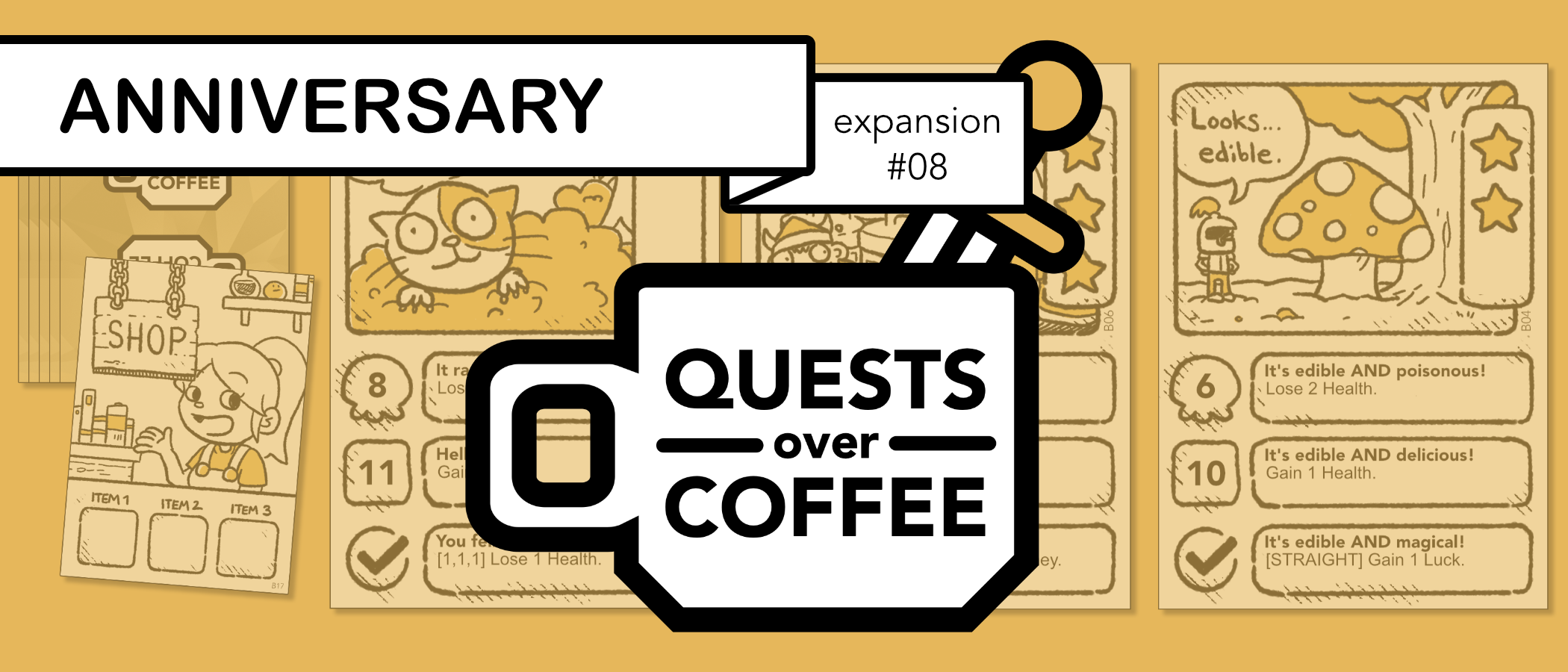 QOC Expansion: Anniversary
Looking for The Game Crafter Physical version of these cards? An "Anniversary+ Expansion" has been created: Game Crafter Link!
Looking for expansions or templates? Check out the collection for all entries: Quests Over Coffee Collection!
Can you believe it? Quests Over Coffee came out one year ago! I released it as a little thing for my birthday and it has found such a wonderful player base that it has exceeded all expectations. To celebrate the one-year anniversary, I decided to release an expansion of 9 new cards! Thank you so much for playing.
What is included in this expansion?
2 Quests, 5 Items, 1 Environment, and 1 Companion!
Where can I find the Base Game?
The Quests Over Coffee Base Game can be found here. Any Quests Over Coffee game requires 10 Quest cards and at least 6 Item cards, so it's best to start there if you don't have enough! If you want to play with Environments, make sure to read the most up to date rule set (1.2 or above)!
What is Quests Over Coffee?
Quests Over Coffee is a single player dice throwing game where you try to claim fame and fortune. With a some strategy, some items, and a little bit of luck, you can find yourself on the other side of the glory or in the pit of a grave.
The game is also a system that allows for you to create your own Quests and Items to experience. Let your imagination and experience run free!
Download
Click download now to get access to the following files:
Quests Over Coffee - 08 - Anniversary.zip
9 MB
Comments
Log in with itch.io to leave a comment.
Is it an expansion or are they promos? Why does the title say Expansion 8, but the cards say PROMO
I blame the creator. He's so lazy.
Jajajajajaja It's still an excellent game, I wish I only named them well xD for example the first promos are numbered and then they lose the numbering xDDDDDDDDDD